The Woodlands Brahmasthan Ceiling Lotus Flower Bursts with Light
"I didn't think you could top the Lexington Brahmasthan - but you have done it!"
Client Brief:
Similar in structure and function to the Lexington corporate office building, the client requested something similar in intention for the decoration of the Woodlands project - to create a feeling of inspiration, light and expansion.
Design Concept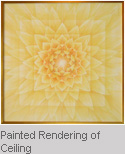 After constructing a simple model of the central section of the Woodlands building, the architectural structure reminded us of an unfolding flower - so we used the theme of an opening lotus flower, symbolic of total knowledge. The petals open sequentially on each of the three layers of the ceiling and onto the wall-panels below - each section becoming more abstract and 'atmospheric' than the one above it. We painted a 30" x 30" acrylic-on-canvas rendering of the lotus which we used as the model to paint the large canvases.

In this design we again used the universal Sanskrit letter 'A', emerging from the center of a 'burst of light' in the upper central panel, and spiraling out over the three layers of the ceiling, the gold-leafed letters sequentially increasing in size. This represents the point-value of creation expanding/unfolding out to infinity. Subsequent, lower layers of the architectural structure of the atrium are interwoven into the 'unfolding' concept of the overall lotus design, incorporating the gold-leafed grid of 'stars' and color elements. In the central part of the lotus we painted a circle of golden anthers representing the 40 aspects of Vedic literature.

Similar to the Lexington project,a gold-leafed a spiral border pattern flows around the opening between 1st and 2nd floors , representing the infinite dynamism of creation emerging and collapsing from point to infinity and back again. The flickering of light on the gold-leafed design emphasizes this dynamism.
Our Approach

Like the Lexington brahmasthan ceiling project, all canvas panel sections were painted and gold-leafed in our studio and then moved to the site for installation, with the assistance of professional wall-finishing experts.
Because of the precision required to have all sections fit together as designed, careful preparation of the structure is important to avoid delays on site. Our requirement for refinement and seamless overall effect demands a high level of attention to detail on site (before and during the installation) in the areas in which we are working.


This ceiling was another floor higher than the one in Lexington, and the scaffolding was even tighter in the space while we were working, so when the supports were removed the effect was even more spectacular! As we were cleaning up after the scaffolding came down, the client arrived unexpectedly on the site, looked up into the brahmasthan atrium space and said: "I didn't think you could top the Lexington Brahmasthan - but you have done it!"