Chip & Scribble Fine Art Studio is graced by the uniquely PERSONALIZED ART of artists Elaine Arnold and Lynne Marshall. Their combined talents make a unique creative partnership and uplifting works of superior art. They can turn any room into a sacred place that inspires the mind, nourishes the heart and relaxes the senses. They will transform a wish for personalized art into a piece of sacred beauty. Infused with a whimsical delicate energy, theirs is an art for showcasing the inner light.
"I have worked on a number of different creative projects with Lynne Marshall since the late 1980's. She approaches her work with integrity and respect, and has the ability to tap right into the essence of her subject, bringing the work to life. Her collaborations with Elaine Arnold are unique and they have such an extraordinary ability to inspire each other to reach greater artistic heights. They are both exceptionally humble and they work with integrity and passion - qualities that are rare in today's crass commercial environment."
- Eugenie Drakes, Johannesburg, South Africa
With their extensive artistic experience, eye for detail and uncanny talent to read and translate their clients' wishes and capture exactly what you want - they will delight you with their showcase solutions for any of your art problems, desires or challenges. They are especially valued for this extraordinary talent to intuit even that which has not been explicitly said, so the result is truly the artists' accurate interpretation of the client's dream wish.
"Elaine and Lynne are two of the finest artists working in America today. To observe their work is to see, as William Blake once wrote, 'heaven in a wildflower.' They have a way of seeing the world from its deepest level and can translate that vision into wonderful works of art that delight the senses. The wall paintings they created for us are imbued with light, beauty, and bliss. Elaine and Lynne radiate love, happiness and devotion in their personal lives and the art they create reflects these most refined qualities. When we look upon their artwork we feel happy, peaceful and inspired. It was a real joy to work with Elaine and Lynne from the start of the project to the finish."
- Dennis and Nancy Zettervall, Boone, NC

"In all my work, no matter what I create (whether in stone, wood, bronze, mixed media or paint), I am somehow narrating a 'story' - stories of deeper values of consciousness, magical, sacred aspects of inner life. I refer to 'sacred art' as art that enlivens subtle, more uplifting values in the awareness of the viewer.
"Manifesting the form of a sculpture is only the final stage in the process of creation. The form evolves from a concept in the mind that is gradually transformed in my conscious awareness - layers of meaning, appearance, scale, medium, etc - until it consolidates into an image that is appropriate to manifest. My fulfillment as an artist is to witness this sequential unfolding of the creative process."
Elaine has always worked as an artist, starting her first major sculpture commission at age 17 on Long Island, NY (a 3-ton limestone sculpture of St Anthony), thereafter producing individual and commissioned pieces in a wide range of materials.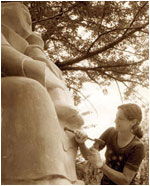 In Elaine's work, the elements or the 'characters' display a whimsical quality, a playful or evocative relationship. This invites the viewer to enter into the joy of the forms of the sculpture or painting and participate in the unfolding of the 'narrative'.
Her work is in private and public art collections in North America: Columbia Museum, Columbia, Georgia; The Grange Gallery, Children's Museum, Toronto Canada.; Wilson Art Center, Rochester, New York. She also has work in Europe, Israel and South Africa. She has illustrated children's books published by Rizzoli, Aladdin Books, Thomas Y. Crowell and Stemmer House Publishers among others.
In 1999 she moved to Deep Gap, North Carolina, to live and work in the quiet, natural beauty of the Blue Ridge Mountains.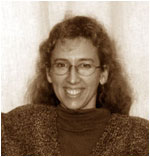 "Underlying everything in creation is universal Being. The process of creating a drawing or painting becomes a vibrant quest to manifest that 'inner light' on the paper or canvas. My creative intention is to express the unity between the radiant inner light inherent in all things and the lively outer form - to enliven the link between these two worlds of reality."
Born in East London, South Africa, Lynne taught drawing and painting in her Johannesburg art studio from 1980 to 1990, produced commissioned artwork, and exhibited her work in various cities in S.A. In 1990 she moved to the U.S. and, after completing a Master's Degree in Art, continued her artwork and teaching (perception training & drawing techniques) in her studio in Iowa. In 1999 she moved to the Blue Ridge mountains in North Carolina.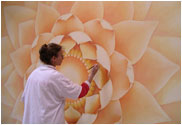 Skill and confidence in drawing is the basis of all her work, creating a strong sense of form, evident in her portraits, botanical drawings, murals and landscape paintings, but most dynamically in the portraits of dancers and performers.
Working with performers in South Africa and in the U.S., drawing and photographing during rehearsals, she translates the images into drawings and etchings. She has created theatre portraits of dancers from the State Theatre Ballet Company (P.A.C.T. Ballet) in Pretoria, S.A., The Washington Ballet Company in Washington, D.C., Dance Theatre of Iowa, and Sylvia Glasser's "Moving into Dance" Company (Johannesburg, S.A.) as well as portraits of independent dancers and performers.
Her paintings and drawings are in collections in South Africa, England, Australia, Canada and in the U.S.
Elaine and Lynne started working together, collaborating on art projects and commissions in 1991. Their complementary skills and working styles blend together to create something greater - "a wholeness more than the sum of its parts" - a uniquely creative team. And although they continue to work on their own individual projects, Elaine & Lynne offer creative support to each other and become "an objective eye" in the progress of their own and their collaborative art projects…
"Being creative is our nature and our work manifests in many different expressions. We create sculpture, drawings, paintings and trompe l'oeil murals, but our specialty is personalized artwork. Our skill is in appropriately interpreting and manifesting the creative vision & desires of others, and experiencing fulfillment for ourselves in the process.
"Creating unique environments is a wonderful experience - whether quiet and simple, or extraordinarily lavish - the mood and feeling in a space is transformed, and can truly elevate the awareness of the 'beholder'!"

Chip & Scribble Fine Art Studio is nestled in the woods of the Blue Ridge mountains. The studio was built according to the ancient principles of Maharishi Sthapatyaveda - the science of building structures in accord with natural law to promote peace, harmony, health, happiness and prosperity.