Graceful, elegant and stunningly beautiful piece of art exceeded any expectations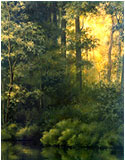 "Of all the pleasures in building our new home, by far the greatest was working with the BRILLIANT artists at Chip and Scribble. We commissioned Lynne to design and paint an eight foot high, five paneled folding screen. This screen was to be the main focal point of the dining room and indeed, of the house. The graceful, elegant and stunningly beautiful piece of art exceeded any expectations that we had and, on first sight, reduced us to speechless delight. That delight continues every day. We have never worked with anyone easier and kinder or more professional. Their art touches our lives and we would be delighted to talk to anyone considering the good fortune of working with Chip and Scribble Fine Art."
- Arlene and Harris Kaplan, Boone, NC

Tap into the essence and bring the work to life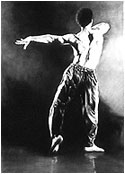 "I have worked on a number of different creative projects with Lynne Marshall since the late 1980's when we worked together on projects in Johannesburg, South Africa. She approaches her work with integrity and respect, and has the ability to tap right into the essence of her subject, bringing the work to life. Her work brings continual inspiration and several of my clients who own Lynne¹s works, love them more each year. Her collaborations with Elaine Arnold are unique and they have such an extraordinary ability to inspire each other to reach greater artistic heights. They are both exceptionally humble and they work with integrity and passion - qualities that are rare in today's crass commercial environment."
- Eugenie Drakes, piece - Founder/Director Johannesburg, South Africa

Seeing the world from its deepest level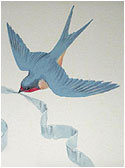 Lynne and Elaine are two of the finest artists working in America today. To observe their work is to see, as William Blake once wrote, "heaven in a wildflower". They have a way of seeing the world from it's deepest level and can translate that vision into wonderful works of art that delight the senses. The wall paintings they created for us are imbued with light, beauty, and bliss. Elaine and Lynne radiate love, happiness and devotion in their personal lives and the art they create reflects these most refined qualities. When we look upon their artwork we feel happy, peaceful and inspired. It was a real joy to work with Elaine and Lynne from the start of the project to the finish.
- Dennis and Nancy Zettervall, Boone, NC

The light, the silence, the bliss…. The simple ease and joy… absolutely first class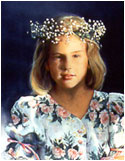 "How to express the light, the silence, the bliss that just pours out of Lynne's and Elaine's art? How to express the simple ease and joy of interacting with them? How to express the amazing, continuous fascination with the art that we have purchased from them? It never grows stale. How to express the utter confidence we have that any commission would result in an absolutely first class work? In one word, it is simply marvelous."
- Bill & Anastasia Hurlin, Fairfield, Iowa

Two women of stunning genius and ability
"It was lovely to work on a book with Elaine Arnold. Along with her incredible genius, she is fun, responsive and sensitive to all the elements required for collaboration.
"Chip and Scribble artwork hangs in my hallway. The pieces are beautiful, compelling and attract much attention. I continue to feel that their commission was a totally worthwhile investment.
"I feel blessed to be associated with two women of stunning genius and ability who have created some of the most varied and beautiful works of art I have seen in my lifetime. Anyone who has the good fortune to be associated with the products and processes of their talent is blessed indeed. Their work continues to uplift and enliven one's consciousness year after year."
- Dr. Melanie Brown, President, CIDA Foundation, Fairfield, Iowa/ Johannesburg, South Africa

Quintessential masters
"Elaine & Lynne are some of the most dedicated and professional artists I know. Their committment to a project is one-pointed and the execution is sublime, far exceeding expectations. In the modern arena of commissioned art they are quintessential masters!"
- Rick Donhauser, Rick Donhauser Photography, Fairfield, IA

Priceless - true rarity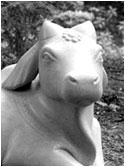 "I had the thought that for my husband's 50th birthday, I would give him a sculpture of a cow. I contacted Elaine Arnold and she was very excited and receptive to the ideas that I had for this project. The small sample sculpture she created was absolutely wonderful! Elaine had captured the essence of the cow I had envisioned.
"Elaine kept me informed of her progress as she worked and invited me to viewings at various stages. The end result was truly sublime. Life was breathed into limestone...a most remarkable work that my husband loved and we greatly treasure. In our garden it creates its own unique environment. I don't believe sculpture of this quality is often seen. Priceless...

"We also commissioned Elaine to create a plaque for the second floor outside corners of our home. We wanted something to reflect our family. She interviewed us and created a wonderful panel which represented us singularly and our family dynamics as a whole - a most remarkable intertwining of individuality and togetherness. Each family member was thrilled with the result. The installation was complex, but Elaine made it all flow easily. Working with her allowed us to feel an integral part of the creation. We see the plaques every day as we enter out home and they give us a constant source of pleasure and enjoyment. In my estimation, artwork on this level of creativity , elaborate detail and exquisite craftsmanship is a true rarity.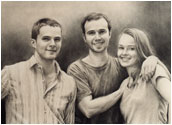 "In addition, we were given a portrait in pencil by Lynne Marshall of our children. This was a surprise gift. I actually gasped when it was unveiled. The children's very essence was so beautifully captured. We have positioned the drawing at our entry way and we feel as if we are greeted by our sons and daughter-in-law whenever we come home. It is an exceptionally executed drawing which breathes its own life. It is greatly treasured by us. "
- Toby Lieb, Boone, NC

Brought incredible energy that supports my work and the experiences of my clients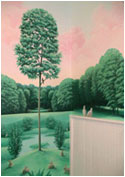 "Elaine Arnold and Lynne Marshall of Chip and Scribble designed and painted a mural for my Clothing Design Studio in Asheville that completely transformed the boutique's energy and landscape. Not only did their creation surpass my vision to create an illusion of more space and depth, but it also brought an incredible energy that supports my work and the experiences of my clients.
"I felt an immediate change in the atmosphere which literally brought me to tears. I continue to feel the art's profound effect every day even though it has been a year since it was installed. It has graced my Studio with a very real yet subtly powerful beauty and clarity that uplifts all interactions and the experience of working in my space.
"Lynne and Elaine were extremely sensitive to my desire for particular shades of color and went to great lengths to get exactly the shades I requested. Their attention to detail is unbelievable.
"I was truly touched and impressed by the incredible patience and skill which they used to install their work and to help me adapt the surroundings to the addition. Never in my wildest dreams did I ever imagine how this Art could actually change and uplift my precious workspace, not only for myself but for my unsuspecting clients!
"I highly recommend Lynne and Elaine's talent to be applied to any project, no matter how small or large. The only limits I could see would be in one's own Vision - not in their ability to fulfill that Vision.
"Please feel free to visit my Studio and to experience their work for yourself."
- Julia Monet-Bolka, Owner, J. Monet , Asheville, NC

All work breathes with a rare life and light … stimulating, uplifting, refining.. and pleasing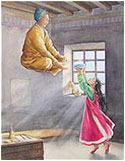 "Lynne Marshall's remarkable talent will be evident to anyone who looks at her work. She brings to everything she does a fine, rigorous, exacting attention to detail - and at the same time all her work breathes with a rare life and light. Her creations work on the viewer on all levels - senses, mind, emotions - stimulating, uplifting, refining, integrating, and pleasing. She captures you - you find it's hard to take your eyes away.
"What may not be evident in looking at her work is how satisfying it is to work with her. She is dedicated to working with her clients to ensure that their own vision is satisfied - and in my experience she starts with your own vision and then takes it to thrilling new heights.
"Lynne is a master artist, a professional in every way, and a wonderful, refined, enlightened human being."
- Craig Pearson, Fairfield, Iowa

The very highest level of artistic training and ability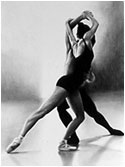 "Lynne Marshall and Elaine Arnold are among the finest artists with whom we have had the pleasure to work. They represent the very highest level of artistic training and ability. The works of Chip and Scribble have often been exhibited at our gallery on Longboat Key and they have a very interested following in the public. The infinitely delicate and perceptive drawings of Lynne Marshall and the incredibly well-rendered stone sculptures of Elaine Arnold are to be highly recommended by this gallery and its staff."
- Peter Wallace, Director of Wallace Fine Art, Longboat Kay, FL

Feeling of timelessness - reaches into the very soul

"I have several pieces of artwork by both Elaine Arnold and Lynne Marshall. I am limited in what I have only by my pocketbook! I will never tire of looking at their work. It has such an unbounded aspect. Some of Elaine's work has a delightful whimsical bent and never fails to totally charm me and others who see it! I have seen some of her large scale pieces and feel they are indeed on the level of a master sculptor. The pieces create such a feeling of timelessness in the observer. I own some of Lynne's paintings and love her work as well. Her ability to paint goes beyond the mere likeness and reaches into the very soul of the person she is portraying. One imagines reading the portrayed person's thoughts! Lynne's landscapes are soothing and magical."
- Patricia Hurst, Fairfield, Iowa

Especially gifted and multitalented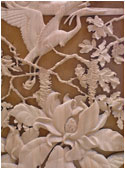 "We have 'worked' (played!) with Lynne and Elaine on several projects and each time we have been thrilled with the processes and outcomes. Not only are they especially gifted and multitalented but they are both such dear souls. We treasure their creations and their friendship. I look for opportunities to continue working with them.... and keep finding them."
- Elizabeth Taggart, Bedford, NY

The best portrait I had ever seen

"Not only does Lynne Marshall's portrait of my daughter look exactly like her physically, but the portrait is done with exquisite technique, precision and love. Lynne deeply captured the essence of my daughter's soul, her spirit. Even the framer said it was the best portrait he had ever seen! We will treasure Lynne's painting for generations to come."
- Bhavani Mair, Fairfield, Iowa

Attention to detail, aesthetics, and personal insight

"Our children's portraits are all that we wished for: intimate, knowing and finely hued. Our family and guests always remark on the portraits' 'aliveness'. Working with Lynne of Chip & Scribble was a completely professional experience with attention to detail, aesthetics and personal insight all addressed by Lynne. We as parents, and our children, feel that the intimate bond that was established during the process between Lynne, as the artist, and ourselves, is permanent. The portraits reflect the intimacy established."
- Rebecca Beuchert, Washington, DC