Client Brief:
We were asked to help aesthetically resolve an architectural problem in a private bathroom/dressing room. Two differently shaped windows (one being rectangular and the other oval) had been placed within a few feet across from one another above the bathtub in one corner.
Design Concept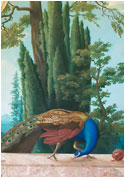 To resolve the mismatched window issue, and to enhance and dissolve the complex spaces of the bathroom, we suggested covering over the oval window at the tub and replacing it with a "much larger view" through illusionist trompe l'oeil architectural features, windows & drapery. We proposed painting the large window-view (based on an old Flemish-style painting) beside the tub, with a trompe l'oeil fabric canopy over it. Adding additional illusionist elements in other areas of the room, a feeling of delicate opulence and whimsy was created in a very personal and private space.
Our Approach

This project was painted on site, in acrylics, with water-based protective finishes applied over all painted surfaces. Real half-columns frame the bathtub, creating the reference for the other painted/illusionist columns in the space, and real marble tiles surround the tub and cap the shelf around the half-column base. A faux painted marble shelf creates the illusion that the shelf (populated by painted pomegranates, peacocks and a painted version of an antique vase) continues beyond the drapery, and around the tub and the painted drapes give the illusion that they tumble over this shelf…
Wall sconces have painted silk cords 'suspending' them in trompe l'oeil arched window openings beside a real arched alcove behind toilet & bidet. Painted flying birds pull back the 'drapes' behind the painted 'columns'. All the painted drapery was modeled on the actual silk jacquard fabric used on the window swags.

We painted a trompe l'oeil mirror frame around the mirror above the sink, and as an added request from the client, we added a butterfly-winged fairy (in the style of Arthur Rackham) whispering to a dove sheltering in the drapery.

The whole room is a delight of "real" and "illusion" all blending and merging together.