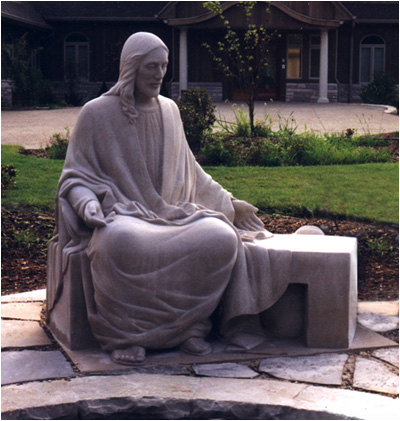 Client Brief:
Designed for a private home - the wish of the client was to have a carving of Christ to sit at a small pool with fountain near the entrance of the house.
Design Concept

Our interpretation of the subject was of a life-sized, welcoming, all-embracing, non-judging Christ sitting on a bench inviting us to sit beside him and confide in himů
Our Approach

Carved from a single piece of Indiana Limestone (5 tons), the Christ figure is echoed in the symbolic carving of the lamb under the "back" of the bench, this being the main the view of the sculpture from the house, so connecting the viewer with the piece from either side. It is a deeply silent, contemplative piece, with symbolic references intertwined in the seemingly simple subject - for example, the tumbling folds of Christ's robe are reminiscent of a river flowing, meeting the pool of water at his feet, and symbolic decorative designs are etched into the borders of the cloak.
This was an example of "holding" the initial, inner vision of the project deeply and subtly in the heart during the entire year-long process. For in spite of the challenge of carving this piece on site, surrounded by the construction crews building the house and developing the grounds, and working on it outdoors through a year of Iowa weather, the feeling that radiates from it is of great silence, stillness and serenity.