" a constant source of pleasure and enjoyment"
Client Brief:
We were asked to come up with a richly ornamented relief carving design for each side of the four corners of the upper exterior walls of the home.
Design Concept & Approach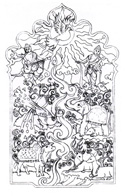 There are 8 panels in total, each one varying slightly in width due to the architectural features on the house. Using elements that symbolically relate to the family, we designed and created a decorative bas-relief panel that could be modified to fit each of the different spaces on the exterior of the house.
| | |
| --- | --- |
| | The original piece was made from clay on board, a mold was made, then cast, cut to size, painted, finished and gold-leafed, and then installed onto the house corners. |
"We commissioned Elaine to create a plaque for the second floor outside corners of our home. We wanted something to reflect our family. She interviewed us and created a wonderful panel which represented us singularly and our family dynamics as a whole - a most remarkable intertwining of individuality and togetherness. Each family member was thrilled with the result. The installation was complex, but Elaine made it all flow easily. Working with her allowed us to feel an integral part of the creation. We see the plaques every day as we enter out home and they give us a constant source of pleasure and enjoyment. In my estimation, artwork on this level of creativity, elaborate detail and exquisite craftsmanship is a true rarity."
- Toby Lieb, Boone, NC